How Can I Make My Dreads Loc Faster?
how to make dreads loc faster
Do you want your dreads to loc faster?
We understand that it can be fascinating to see people with healthy dreadlocks hanging behind them. You may wonder when your dreadlocks will become like that.
Many factors affect how fast your dread will lock. Elements like; your hair texture, the type of loc that you want to achieve, the products that you use, etc.
Waiting for your hair to lock doesn't need to be frustrating, it can be easy. In this article, you will learn all you need to know to make your dreadlock faster.
How long does it take hair to lock?
There is no specific time for a hair to lock. The amount of time that it will take a hair to lock depends on factors like hair texture, dread maintenance process, etc.
On a general note, it can take your hair from 8 months to 2 years to form mature locks. The texture of your hair greatly determines how fast it will take for your hair to lock.
Naturally, kinky and tightly coiled hair loc faster than other hair textures. A 4C or 4B natural hair will loc faster than a 4A or chemically processed hair (relaxed hair).
The process of locking your hair will take some time depending on your hair texture.
Can I use a hair product to make my hair lock faster?
Not really.
We understand that there are hair products like hair wax and gels that help your hair strands to stick together. While these products are great for taming stray hairs and generally maintaining your hair, they cannot make your hair lock.
If you want to wear temporary dreadlocks or maintain your loc, then Tazol locking firm wax is a great option for you.
For your hair to loc, the strands need to stick together to form a matt. It can take a while for your hair to get matted, but there are styles that can help you start the process and achieve that dreadlocks feel on your hair.
What styles are best for locking the hair faster?
It may take some time for your hair to form a mature lock, but there are hairstyles that are great for starting locs. These styles are called starter-locs because they are used to start your loc journey.
Starter locs are loc-friendly hairstyles that provide a structure for your hair to ultimately grow into a mature loc.
Starter-locs are great options for people who want to start growing their loc from scratch or for people that want to transform their already long hair into locs.
Starter-locs are common because they give you the feeling of a dreadlock even if your hair hasn't gotten there. The interesting thing about starter-loc is that it provides the background for your hair to form a loc and also gives you the feeling of dreadlocks.
If you want to transform your hair into locs, then these styles are great options.
Comb coils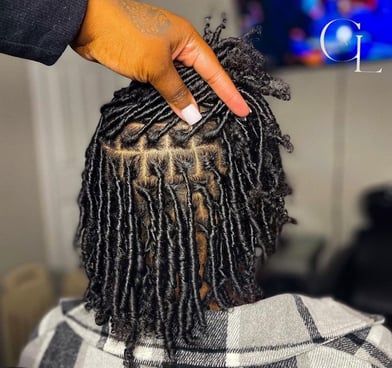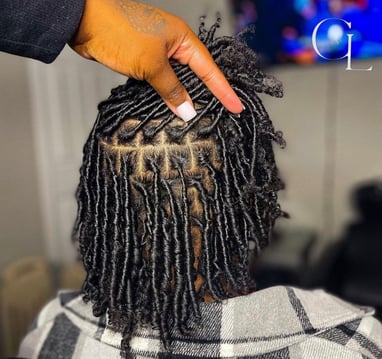 Comb coil is a common starter-loc style for short hair. This style is achieved by manually using a rattle or fine-tooth comb to spin sections of the hair around until it forms a coil.
This style works better for short kinky hair than fine long hair.The coils can loosen easily if you have fine wavy curls. It is good to always wear your head scarves at night when wearing this style to prevent them from loosening.
Palm rolling is also a common starter-loc style that is achieved by rolling sections of your hair between your palm. Palm rolling is a great starter-loc style as well as a loc maintaining style.
You can choose to put your hair in large or small sections when palm rolling your hair.
Two-strands twist
If comb coils don't work with your hair, then a two-strand twist is a great option to start your locs. While this hairstyle is a beautiful hairstyle on its own, it is a good way for you to start your loc journey.
This style works for almost every hair texture. You can use palm rolling or comb twisting to maintain the style as your hair grows.
Braids
Braids are great starter-loc options for people with straight or loose hair. This style prevents your strands of hair from unravelling easily. Your loc may appear flat when it is fully formed if you start with this style.
It can take up to one year for the plait pattern of the braids to disappear and start to look like a real dread.
Sister locs
Many ladies like to wear sister locs because of their versatility. If you want a starter loc style that will give you the freedom to change your hair's appearance, then try sister locs.
You can't achieve this style on your own. You will need the help of a professional to instal because it requires the use of a special tool. Sister locs are referred to as micro-locs because they are usually tinier than other locs.
Interlock
This starter loc hairstyle is achieved by using crochet or a latch hook to pull the ends of your hair through the root. You can get the dreadlock look by pulling strands of your hair in different directions.
Sponge method
This is a common starter-loc style for short hair and low-cut. This style is achieved by simply using a sponge, foam, or towel to rub your hair. Rubbing your hair against these materials will help it form a coil.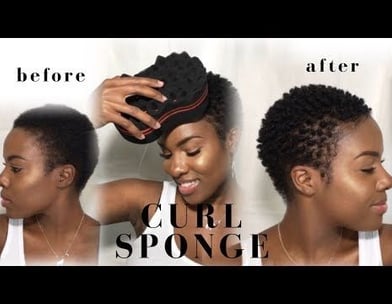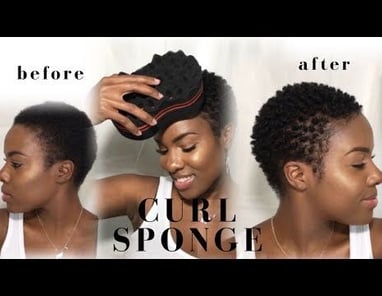 Secret tips to loc your hair faster
These tips will help you prevent your locs from unravelling or hasten the loving process.
Protect your locs
Locs get unravelled easily at the beginning stage, so putting them in protective styles will prevent unravelling and force them to grow in a pattern.
You can choose simple protective styles like; two-strand twists, braids or Bantu knots. Avoid styles that will cause tension around your edges or pull your hair.
Avoid interference
One secret to loving your hair faster is by avoiding interference between your hair and the environment. The less your locs unravel the faster it will loc. You can tie your hair up or wear a satin scarf at night.
How to Maintain your locs?
The best way to make your hair loc faster is by maintaining your new loc. You can maintain your loc by using hair products that promote the health of your hair.
Haircare products like; shampoos, conditioners, essential oils, etc. help to maintain your locs.
If you have difficulty locking your hair, then you may need locking firm wax to keep your locs in place. Tazol locking firm wax is specifically formulated for hard to loc hair.